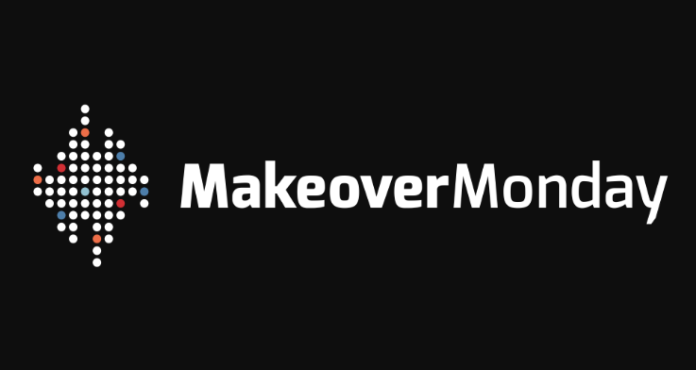 Makeover Monday is a wonderful community initiative for developing your Tableau skills, having fun and meeting loads of people while you are at it; when I have free time from work, I am always looking to participate, when I am too busy with work I will find time to browse the #MakeoverMonday on Twitter for wonderful design ideas and inspiration.
If you love working with Tableau and have not looked into this yet, I would highly recommend it: http://www.makeovermonday.co.uk/
---
Makeover Monday is your weekly learning and development appointment with yourself and hundreds of passionate data people. For free! Join us every Monday to with with a given data set and create better, more effective visualizations and help us make information more accessible.
The Makeover Monday community comes together every week from around the globe and we would love for you to become part of it, too.
6 steps to your first Makeover Monday viz
Getting started with Makeover Monday and joining a community dedicated to helping you learn and improve your analysis and visualization skills is easy!
GET THE DATA, READ THE ARTICLE
A viz for makeover and the accompanying data are published on our data.world project which you can easily access through our website.
ANALYZE AND VISUALIZE THE DATA
Work through the dataset, explore different angles, find your data story and build a viz. Use whichever tool you prefer.
PUBLISH YOUR VISUALIZATION
Publish to your chosen platform and if you have a blog, add it there as well. It's great to write about your process and share any design tips with your readers.
SHARE YOUR WORK
Share a picture of your viz and a link to the interactive version on data.world and Twitter (tag @VizWizBI & @TriMyData) to share it with the community.
JOIN VIZ REVIEW
For comprehensive feedback from Andy & Eva submit a picture and link on the data.world Viz Review thread and join the live webinar every Wednesday, 4pm BST/GMT.
LEARN | ITERATE | IMPROVE | SHARE
Use our feedback and that from the community to improve your work. Learn from others, be inspired by them and let your vizzes inspire and help others to develop their skills.