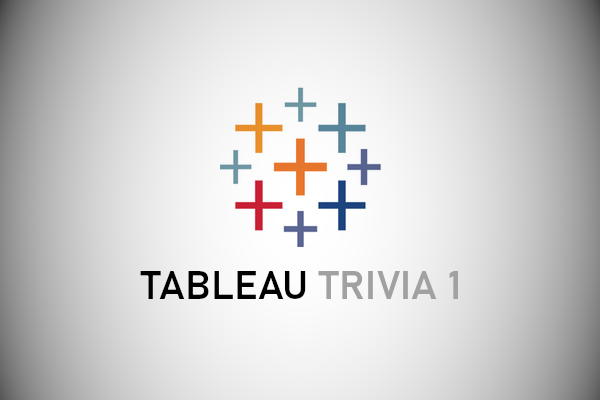 Q1. What year was Tableau Software founded?
Tableau Software was founded in 2003.
Q2. Out of the following list, who was NOT a Founder of Tableau Software?
The correct answer is Adam Selipsky. Patrick M. Hanrahan is an American computer graphics researcher, the Canon USA Professor of Computer Science and Electrical Engineering in the Computer Graphics Laboratory at Stanford University. His research focuses on rendering algorithms, graphics processing units, as well as scientific illustration and visualization. He has received numerous awards, including the 2019 Turing Award. As a founding employee at Pixar Animation Studios, from 1986 to 1989 Hanrahan was part of the design of the RenderMan Interface Specification and the RenderMan Shading Language. He was credited in Pixar productions including The Magic Egg (1984), Tin Toy (1988) and Toy Story (1995). In 1989 Hanrahan joined the faculty of Princeton University. In 1995 he moved to Stanford University. In 2003 Hanrahan co-founded Tableau Software and remains its chief scientist. In February 2005 Stanford University was named the first regional visualization and analytics centre for the United States Department of Homeland Security, focused on problems in information visualization and visual analytics. In 2011 Intel Research announced funding for a centre for visual computing, co-led by Hanrahan and Jim Hurley of Intel. Christian Chabot is Chairman of the Board and Co-founder of Tableau Software. Prior to Tableau, Christian was with Softbank Venture Capital, where he specialized in enterprise software. Before Softbank, Christian was CEO and co-founder of BeeLine Software, a pioneer of next-generation digital mapping technology that was acquired by Vicinity Corporation. Christian started his career as a data analyst at Cornerstone Research, an economic consulting firm, where he first became a bona fide data geek. He is the author of Understanding the Euro: The Clear and Concise Guide to the Trans-European Currency (McGraw-Hill, 1998), which he wrote as a Robert Bosch Foundation Fellow. He holds an MBA from Stanford University, an M.Sc from the University of Sussex, and a BS from Stanford's School of Engineering. Chris Stolte is one of Tableau's founders, who now serves at a Technical Advisor to the company. Prior to co-founding Tableau, Chris spent six years researching the analysis and exploration of multidimensional data at Stanford University, culminating in the Polaris system which was the basis for Tableau's first products. This research resulted in fourteen research publications and two large-scale visualization systems. Chris was also the CTO and co-founder of BeeLine Systems, a visualization software company that developed a revolutionary map rendering system and was purchased by Vicinity Corporation (NASDAQ: VCNT). Chris is a co-inventor on five software patents related to information visualization. He holds a PhD in Computer Science from Stanford University and a B.S. in Computer Science from Simon Fraser University. Adam Selipsky is the President and CEO at Tableau. He sets the vision and direction for Tableau and oversees all company strategy, business activities and operations. Selipsky spent over a decade building Amazon Web Services, one of the most successful technology platforms in the world. His leadership helped grow AWS from a start-up into a multi-billion dollar business and establish it as the undisputed market leader in cloud computing. Selipsky served as Vice President of Marketing, Sales and Support for AWS. Prior to joining Amazon, he was an executive at RealNetworks, leading the video subscription and media player division. Before that, he was a principal at Mercer Management Consulting, a strategy consulting firm. He holds an AB in government and an MBA from Harvard University.
3. When was the first public release of Tableau Software?
I believe that the first-ever version of Tableau was released in 2004, although, I would love to know the exact date, if anyone knows, do send me a message.
4. Which Company was NOT acquired by Tableau Software?
The correct answer is Airflow. In 2015, Tableau Software acquired Infoactive, an infographics web app startup based in Montreal. Infoactive helps people turn live data into mobile-friendly, interactive infographics. It won the award for Best Bootstrap Company at SXSW in 2013, followed by a successful Kickstarter campaign later that year. Infoactive launched its first public beta in 2014. As part of the acquisition, its three employees will join Tableau's development team. In 2016, Tableau Software acquired HyPer, Innovative High Performance Database System to Integrate with Tableau Products. HyPer is a fast main-memory database system designed for simultaneous OLTP and OLAP processing without compromising performance. It also unifies transactions and analysis in a single system, and when coupled with Tableau will help customers take visual analytics closer to the transactional systems that underlie most businesses. In 2017, Tableau Software acquired ClearGraph. a cutting edge Palo Alto startup that enables smart data discovery and data analysis through natural language query technology. Tableau plans to integrate ClearGraph's technology into Tableau's products, making it even easier for more people to interact with their data by using natural language to ask questions and search for insights. In 2018, Tableau Software acquired Empirical Systems, a pioneering artificial intelligence startup that originated at the Massachusetts Institute of Technology (MIT) Probabilistic Computing Project. With Empirical Systems' automated statistical analysis technology integrated into the Tableau platform, Tableau customers will more easily gain insight into their data, without needing to manually build the complex underlying data models that would otherwise be necessary. Apache Airflow is an open-source workflow management platform. It started at Airbnb in October 2014 as a solution to manage the company's increasing complex workflows. Creating Airflow allowed Airbnb to programmatically author and schedule their workflows and monitor them via the built-in Airflow user interface. From the beginning, the project was made open source, becoming an Apache Incubator project in March 2016 and a Top-Level Apache Software Foundation project in January 2019.
5. Tableau developed a product called Vizible?
This is True. In 2015, Tableau launched Vizable as a free iOS app that turns your data into beautiful, interactive graphs. Explore Excel and .csv files to see what your spreadsheets have to say. Vizible is no longer a Tableau supported product.
6. Where is the Tableau Global Headquarter located?
Tableau Global Headquarters is in Seattle.
7. Tableau has been a leader in the Gartner Magic Quadrant for many consecutive years, but in which year did Tableau make its first appearance as a Leader?
The answer is 2012. As of the 2020 Gartner Magic Quadrant for Analytics and Business Intelligence Platforms, Tableau celebrated their 8th consecutive year as a Leader.
8. In which year did Tableau go Public?
On the 16th May 2013, Tableau Software, Inc. (NYSE: DATA) announced the pricing of its initial public offering of 8,200,000 shares of its Class A common stock at a price to the public of $31.00 per share. A total of 5,000,000 shares are being offered by Tableau Software, and a total of 3,200,000 shares are being offered by certain selling stockholders. The shares are expected to begin trading on the New York Stock Exchange on May 17, 2013 under the symbol "DATA". In addition, the underwriters have been granted a 30-day option to purchase up to an additional 1,230,000 shares of Class A common stock from Tableau Software. Tableau Software will not receive any proceeds from the sale of shares by the selling stockholders.
9. In which Year was Tableau Acquired by Salesforce?
On the 10th June 2019, Adam Selipsky wrote the following: "One of the most amazing aspects of Tableau is how focused the company is on its mission: helping people see and understand data. It is so inspiring to see thousands of Tabloids making this vision a reality daily. Today we are embarking on a new chapter that will dramatically accelerate our ability to achieve that mission. We are incredibly excited to announce that we have entered into a definitive deal for Tableau to be acquired by Salesforce in one of the most historic combinations in the history of the software industry. As you well know, we are a special company with incredible customers who are doing amazing things with our products. In a short 16 years, we have gone from a start-up in a bedroom to a billion-dollar public company. We have been able to serve millions of people in more than 86,000 organisations around the world. We have been heads down building and delivering the analytics capabilities that are so critical to all of those customers. And with a bright future ahead of us, as we've powered through the subscription transition, built an enterprise business and strengthened so many parts of the company. However, it was precisely because of our many strengths and momentum that we were attractive to Salesforce. As our two companies began joint discussions, the possibilities of what we might do together became more and more intriguing. They have leading capabilities across many CRM areas including sales, marketing, service, application integration, AI for analytics and more. They have a vast number of field personnel selling to and servicing customers. They have incredible reach into the fabric of so many customers, all of whom need rich analytics capabilities and visual interfaces. They have a leading brand and generate huge awareness through massive events such as Dreamforce. They have a passionate and engaged global community called Trailblazers. On behalf of our customers, we began to dream about we might accomplish if we could combine our ability to help people see and understand data with their ability to help people engage and understand customers. In addition, we were quickly struck by the cultural similarities between the companies. A desire to change the world through data and digital transformation. A customer-centred view of the world. A focus on empowered employees. And a dedication to service and giving back to our local and global communities by bringing all of our corporate resources to bear. For all of the reasons above, our founders, Board of Directors and management team all came to believe that the best way, the most exciting way forward for Tableau, was to join forces with Salesforce. We all believe that the growth potential is enormous and that customers will love what we can bring them together. We also think that there will be a ton of interesting and fun opportunities for our teams and employees, as we figure out how to make the best use of all of the new tools in our toolboxes. Our mission remains the same. We have much work left to do to help people see and understand data – and to make the world a better place in the process. Now we will be able to dramatically accelerate our ability to pursue that mission and become the defining company that ushers in the era of analytics ubiquity: accelerated ubiquity! I am more excited than ever about the adventure ahead and hope all of you will be too. Onward, Adam"
10. How much was Tableau Software Acquired for?
Salesforce acquired Tableau for $ 15.7 billion on the 10th Jun 2019, the deal was completed on the 1st August 2019. Salesforce acquired MuleSoft for $ 6.5 billion in 2018. MuleSoft, LLC. is a software company headquartered in San Francisco, California, that provides integration software for connecting applications, data and devices. Started in 2006, the company's Anypoint Platform of integration products is designed to integrate software as a service (SaaS), on-premises software, legacy systems, and more. Salesforce acquired DemandWare for $2.8 billion in 2016. Demandware is a software technology company headquartered in Burlington, Massachusetts that provides a cloud-based unified e-commerce platform with mobile, AI personalization, order management capabilities, and related services for B2C and B2B retailers and brand manufacturers around the world. Salesforce acquired ExactTarget (now Salesforce Marketing Cloud) for $2.5 billion in 2013. Salesforce Marketing Cloud is a provider of digital marketing automation and analytics software and services. It was founded in 2000 under the name ExactTarget. The company filed for an IPO in 2007, but withdrew its filing two years later and raised $145 million in funding. It acquired CoTweet, Pardot, iGoDigital and Keymail Marketing. In 2012, it raised $161.5 million in an initial public offering, before being acquired by Salesforce for $2.5 billion in 2013. ExactTarget was renamed to Salesforce Marketing Cloud in 2014 after the acquisition by Salesforce.
Tableau Trivia Quiz 1
Perfect
You are amazing and answered every question correctly.
Excellent
Extremely well done. Try again and try to get perfect.
More reading required
Why not learn more about this amazing tool...